The true story of AFS (now FBA) goes back to December 1941...
...when Mort Leve, a promising 22-year-old catcher in the Chicago White Sox minor league system abandoned his baseball career to enlist in the Air Force following the bombing of Pearl Harbor.  Leve had graduated from the University of Illinois only 18 months earlier with a degree in journalism.
After World War II, Leve realized that at age 27 he was too old to reboot his baseball career and he sought his role in life, turning to his journalism degree and love of sports. On a cold winter day in Chicago in 1951, Leve responded to a newspaper ad seeking a manager for the Town Club, the first all-purpose health club in Chicago, owned by building magnate Bob Kendler, who hired Leve to run the club.
Shortly after taking the job, Leve learned that part of his responsibilities included assisting Kendler, an avid and highly ranked handball player, with the launch of the U.S. Handball Association (USHA).
With Kendler as president and Leve as executive secretary, the USHA grew throughout the 50's and 60's in what many call the golden age of handball. Players like Jimmy Jacobs (Mike Tyson's original manager), the Obert brothers (Carl, Oscar, Rudy), Vic Hershkowitz, 'Stuffy' Singer, and Paul Haber were idolized in handball circles.
By the tail end of the '60's...
...the handball world was forever altered by the development of a new sport played on the same court – racquetball.  Easier to learn and master, racquetball posed a potential threat to handball if not promoted properly.
When the USHA was approached by a group of racquetball aficionados to essentially "take over" the new sport, USHA seized the opportunity, creating the International Racquetball Association (IRA) in 1968, ultimately leading to the development of today's USA Racquetball.
As the work promoting two sports built to impossible levels, Chuck Leve, Mort's oldest son, graduated in 1970 from the University of Miami. Like father like son, the younger Leve was a baseball scholarship athlete at Miami, with a degree in journalism.
Having grown up in the handball/racquetball environment, Chuck Leve was given the opportunity to head up the IRA, - to create an infrastructure for the sport, 50 state affiliates, a competitive hierarchy, standardize the rules, an official publication, and later, a professional tour, sponsorships, and secure television coverage for major tournaments.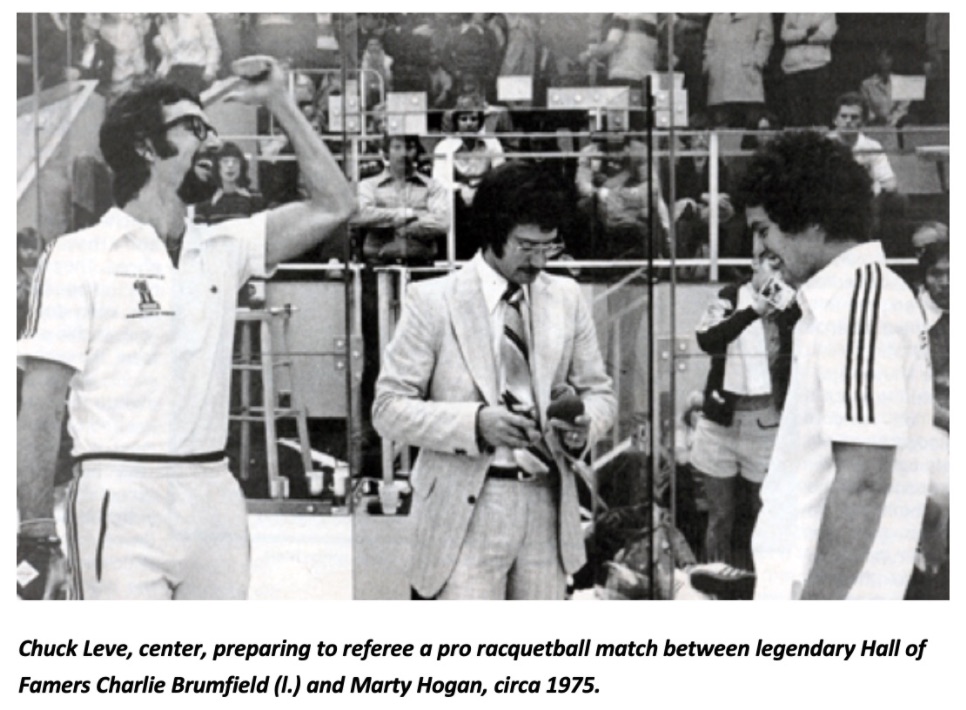 In 1976, Mort Leve created the National Court Clubs Association (NCCA)...
...primarily to help aspiring club owners realize their dream, working with industry leaders like Augie Nieto promoting cardio with Lifecyle and Jim Flanagan, part of the original Nautilus team espousing strength training.
For contributions to their sports, Mort Leve was elected to the Handball Hall of Fame in 1976 and Chuck Leve was elected to the Racquetball Hall of Fame in 1997.
In 1979, Chuck was hired by NCCA to become their first full-time executive director and his primary responsibility was to run the inaugural NCCA Convention in January 1980.  In the summer of that year NCCA leadership (led by Rick Caro and Norm Cates) asked Leve to organize meetings during which NCCA merged with the National Tennis Association (tennis club operators) to create the International Racquet Sports Association (IRSA) now known as International Health, Racquet & Sportsclub Association (IHRSA).
John McCarthy was hired as IRSA's first executive director and he hired Chuck as the organization's first sales and marketing director, with the responsibility to organize and run the first IRSA Convention in January 1981. When Leve asked McCarthy "Where's the trade show?" John replied, "That's an interesting idea, can you build us one?"  Leve did and that 63-booth show on the tennis courts of the Tropicana Hotel in Las Vegas, ultimately grew into the 1,800 booth IHRSA show – the largest commercial fitness show in North America. 
To this day, Chuck Leve is known as the creator of the IHRSA Convention & Tradeshow
The fitness industry boomed in the 80's, racquetball's popularity waned, and was replaced by cardio and strength training. With thousands of racquetball clubs desperate to keep members engaged – the golden age of fitness was upon us with stationary bikes, treadmills, aerobics, free weights, and weight stacks becoming the workouts du jour for the fickle American fitness public.
An immediate problem facing these burgeoning businesses was the lack of experience and expertise in delivering fitness to the consumer. Taking the tennis and racquetball teaching pro model and applying it to "the gym" birthed the personal training industry. 
Chuck spent 28 years at IHRSA and along the way his older son Josh got a first-hand look at the fitness industry. In 2005, armed with his own journalism degree from the University of Kansas, Josh went to work for Gale Landers, owner of Fitness Formula Clubs (FFC), a Chicago-based chain of (now) 11 upscale urban/suburban clubs of roughly 40,000 sq. ft.
Over the next eight years at FFC, Josh learned the health club business from the inside out (often from the bottom up), ultimately becoming GM of two FFC clubs while also consulting with several Chicago-area fitness studios.
Not lost on Josh was the trend he was experiencing where his best trainers seemed to last about as long as it took to gain a strong following – only to leave to start their own studio business.
And that was the proverbial light bulb moment that led to AFS 
"They're great, some of the best trainers, instructors, and coaches," Josh told Chuck one night over dinner in mid-2012. "But what's missing is a credible industry association to support them and provide the benefits and resources that are critical for business growth."
Josh researched the industry, learning that there were over 100,000 fitness studios at the time (inclusive of all disciplines – personal training, group exercise, indoor cycling, yoga, Pilates, mixed martial arts, etc.).  And while the fitness activities and training protocols could be vastly different from studio to studio – these facilities shared many common business challenges.
"Somebody I respect once said – and it's true - 'the moment you sign that lease or those loan papers, you have just transitioned from John Smith the fitness professional to John Smith the entrepreneur, and that means a completely different set of skills you need to master."
Josh also recognized that the studio segment of the fitness industry lacked strong data (sometimes it lacked any data) and despite the high cost associated with market research, AFS has continued to invest substantially in delivering quality research.
With fantastic industry support from all sides, (owners, aspiring owners, suppliers, certifying organizations, and trainers) AFS in 2019 created SUCCEED! - the first fitness Convention & Expo totally focused on delivering the best fitness business education in the industry. The successful first event in May 2019 attracted nearly 400 attendees, and the encore in-person event, scheduled for May 2020 was replaced by a COVID-induced virtual version that signed up over 4,400 people.  Additional virtual events continue.
Time for a Rebrand - AFS Becomes the FBA
As AFS digested its ever-increasing data it had become clear in 2021 that the organization was attracting and serving a much wider audience than just fitness studios.
In fact, over half of the 70,000+ regular recipients of AFS information owned or operated non-studio fitness businesses. It was time to rebrand into the Fitness Business Association (FBA) and while studios will always be the heart and soul of the audience we serve, our new name perfectly embraces our vision of supporting fitness businesses of all types.
We look forward to working with all entrepreneurs bringing health and well being to society.