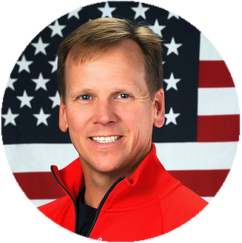 Born in Mobile, Alabama, Garrett is the son of Dr. and Mrs. Ivey Williamson and a graduate of UMS Preparatory School. Garrett attended the University of Georgia where he was a pole-vaulter on the varsity team for three years. He graduated with a bachelor's degree in Exercise Science and continued on to complete his Master's Degree in Fitness Management (MSS) at United States Sports Academy.
During his studies at the Academy, Garrett interned at both Dr. Kenneth Coopers' Aerobic research facility in Dallas and St. Johns Medical facility in Tulsa, Oklahoma. While in Tulsa he taught gymnastics with Mike Thomas at Citadel Gymnastics.
After personal training for eight years in different facilities in Georgia, Oklahoma, and Alabama, Garrett opened Personal Edge Fitness Inc. Personal Edge offers a la carte services in personal training, rehabilitation, sport-specific training, and home training by certified and degreed professionals.
In 2010 Garrett re-entered the competitive athletic field in Sprint Triathlon. In August of that year Garrett, along with his brother Ivey, competed in the USA Triathlon National Championships where they successfully qualified for Team USA and the 2011 World Championships in Beijing, China. In Beijing, Garrett finished 15th in the world and was the top American finisher in his division. Since 2011 Garrett has competed in two more world championships (Auckland, New Zealand 2012, and London England 2013) in both sprint triathlon and aquathlon.
Garrett is married to Stephanie Jane Eads from Jasper, Alabama. They are both very active with Save a Stray and their K-9 foster and adoption programs. They are the proud parents of five dogs and provide a temporary home to many fosters. They also love to travel and are avid scuba divers.